Are you in password chaos?
I will show you the way out of the crisis!
Is it getting more and more complicated for you to remember your many passwords for all your accounts? The chaos can be ended with a password manager. I found seven different managers for you in the portrait.
Amazon, Dropbox, Facebook, Google, Gravatar, YouTube, Instagram, Mailchimp, Skype, Soundcloud, Tumblr, Twitter, VISA, Vimeo and WordPress – you can quickly find a large number of services that you use. Usually a different password is used for each access. The passwords should be secure and cryptic with upper and lower case letters, numbers and special characters. Only true geniuses find it easy to remember every password in their head.
Many users therefore use simple passwords such as "1234567" or "password".
That's not a good idea! And a gateway for bad hackers.

I'll show you the solution to the problem if you read on!
This is where the password manager comes in.
A password manager saves the individual strong passwords with a master password. You no longer need to remember your 21 different passwords for your accounts, you only need to remember one (the particularly secure master password).
I will introduce you to 7 different password managers:
1Password
The programmers of "1Password" call their product "the most secure password manager" on the market.
The password manager "1Password" comes from AgileBits. 1Password is available for all common platforms: Mac, Windows, iPhone, iPad and Android. Plugins are available for Internet Explorer, Chrome, Firefox and Opera. The functions are different. There are different licenses, from the single to the family to the upgrade license. Prices range from $ 2.99 to $ 4.99. The encryption is a 256-bit AES encryption.
LastPass
LastPass is free of charge in the basic version. The Premium and Enterprise versions are available at an additional cost.
LastPass is one of the most popular password managers alongside 1Password. In the premium version, which costs € 1.76 per month for one user, the passwords can also be called up mobile from iPhone, BlackBerry, Windows Mobile, Android, Palm webOS and Symbian. LastPass supports Mac, Windows, and Linux. Plugins for Internet Explorer, Chrome, Firefox, Safari and Opera are also included. LastPass supports 256-bit AES encryption.
Keeper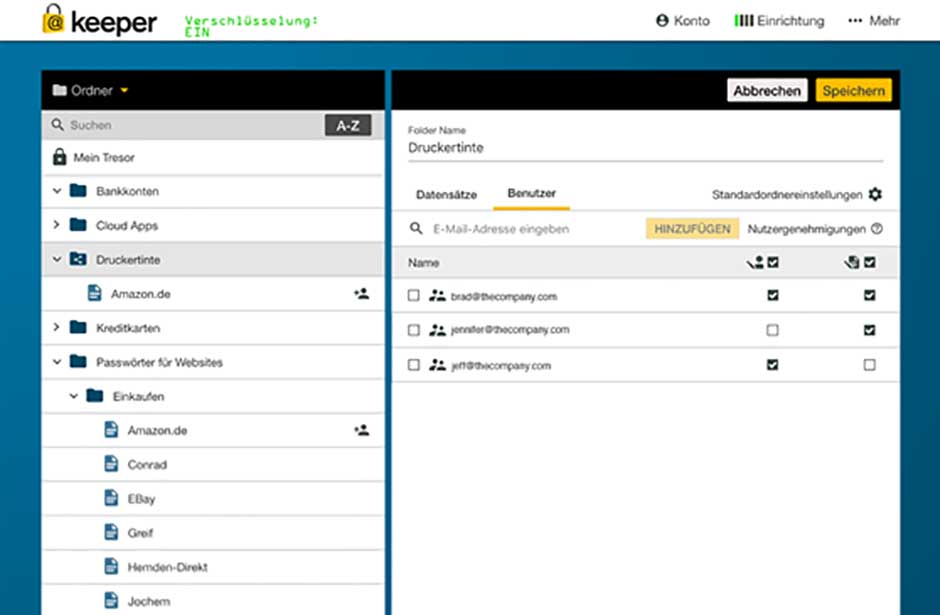 The Keeper password manager also has 256-bit AES encryption.
The Keeper password manager enables us to save user names, passwords, financial data and documents securely. In contrast to 1Password, it can be set up for more platforms and devices: iPhone, iPad and iPod as well as Android and Windows Phone versions. Solutions for Mac, Windows and Linux are also available. Plugins for Internet Explorer, Chrome, Firefox and Safari are available. The prices vary depending on the scope and the end device used, from € 2.50 per month to € 450.00 per year.
Msecure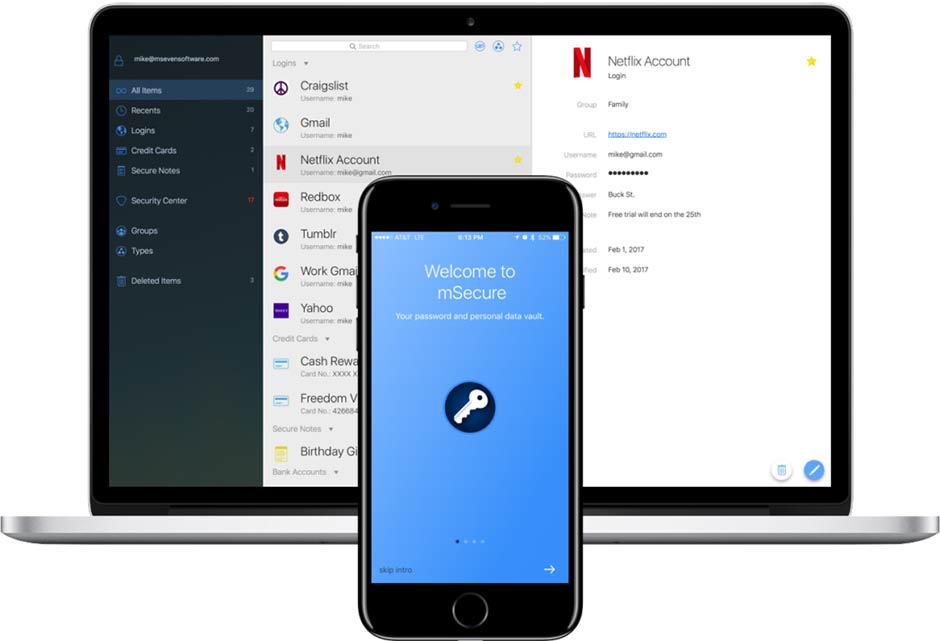 Msecure is available for Mac and Windows as well as an iPhone, iPad and Android application.
The Msecure software describes itself as "ultra secure". It uses a 256-bit Blowfish encryption that has never been cracked, according to its own statements. The software is available for Mac and Windows as well as an iPhone, iPad and Android application. It is priced at $ 29.99 USD. This is a cheap alternative, but there are no native browser plugins available, which may not be ideal for one or the other user.
PasswordBox
The PasswordBox password manager is available free of charge.
PasswordBox was voted the best mobile app of 2014 at CES. Equipped with all the basic functions of a password manager, it is completely free of charge in contrast to the other password managers and can be used for Mac, Windows, iPhone, iPad and Android. There are also browser plugins for Internet Explorer, Chrome, Firefox, Safari and Opera. The data is encrypted and decrypted locally on the respective end device with 256-bit AES encryption.
Clipperz
The Clipperz password manager is free and open source.
Clipperz was founded in 2007. The password manager also works on iOS and Android devices. The web service is free and open source. The core software is also available under an AGPLv3 license on GitHub. 128-bit AES encryption is implemented. For mobile devices, a five-digit master PIN can be set up instead of a master password.
KeePass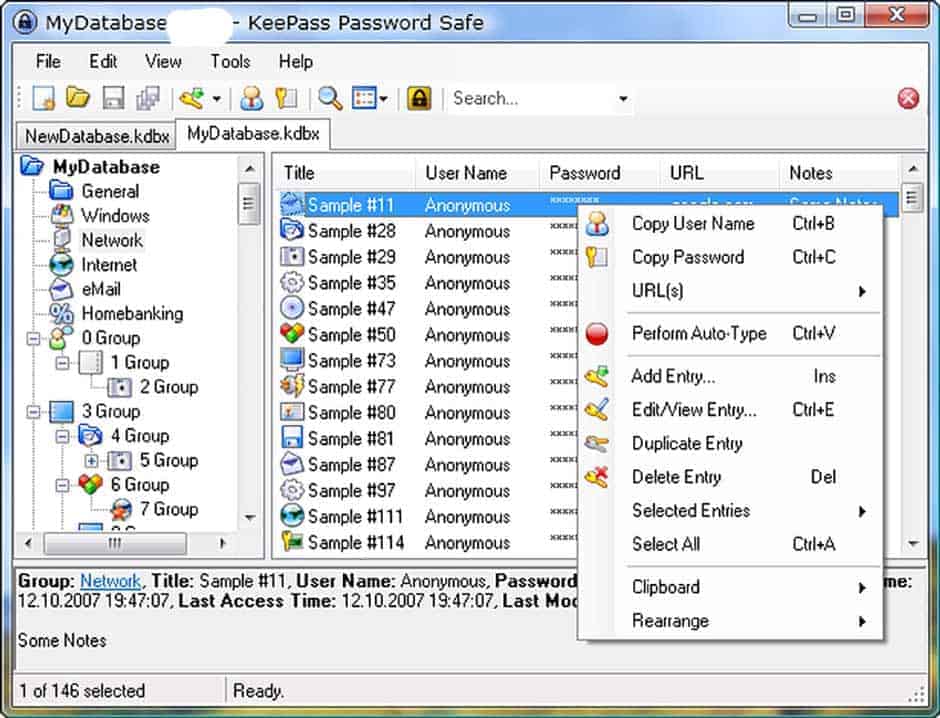 KeePass for Windows. KeePass is free.
The open source password manager KeePass can be used on Mac, Windows and Linux and, with the help of additional ports, also on iOS, Android and Windows Phone. KeePass encrypts the entire database, which can also contain user names etc. The password database is optionally encrypted using the AES algorithm or the Twofish algorithm. The source code is available on Sourceforge under a GPLv2 license.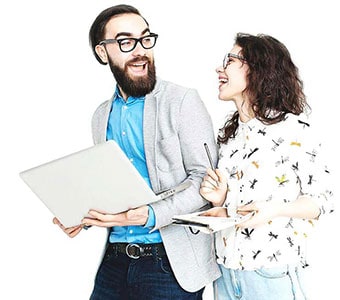 You want to have your website checked for functionality?
We check your website and send you the results.