Or is there another solution?
I'll show you how to become (almost) invisible on the web.
Instead of deleting your own accounts on Facebook & Co. forever, you can significantly improve your privacy on the Internet with a few rules.
The year 2018 was full of data scandals with extremely large data leaks. It started with the discovery of the Facebook data scandal surrounding Cambridge Analytica in the spring. It then continued with the Marriott leak, in which half a billion customer data were stolen in December 2018. Since then, the social networkers have been in an uproar. Many want to turn their backs on Facebook and Co.
Do you have to give up your networks completely now?
For people without a job-related need to present themselves in networks, this might be a solution. Most of us, however, rely on Facebook, Instagram & Co.
I'll show you a sensible alternative:
You just have to be as good as invisible on the Internet. Then it is not necessary to close all of your accounts on the major social media platforms.
1. Surf the Internet in "Invisible Mode".
You can find this setting option in practically all common browsers. In Google's Chrome browser, right-click the browser icon in the system tray. There you then choose: Select "new incognito window".
As soon as you surf invisibly, you do not create a surf history in the browser. No surfing data such as cookie files or temporary Internet files are saved either. This mode also prevents the websites you visit from reading your browser data. This means that your privacy is much better protected.
2. Prohibit session cookies.
Service operators such as web mailers require the browser to set a so-called session cookie when logging in. In order to allow this, but in any case to disclose as little data as possible, you can prohibit the storage of third-party cookies in the browser. They are usually requested from online advertising providers in order to track your surfing behavior.
3. Change basic Facebook settings.
If you only use Facebook privately instead of professionally, you should change the standard setting for posts from "public" to "friends". You cannot let strangers show your own contributions when selecting the profile by setting under the settings for "public contributions" that only friends can subscribe and not all members.
This is just a small selection to make your online activities safer. There are certainly other options, but you are already on the right path to significantly increase your private protection.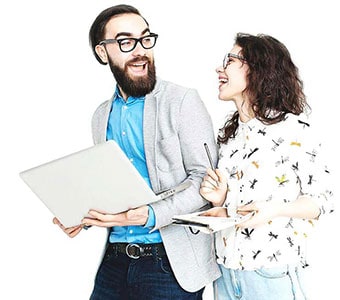 You want to have your website checked for functionality?
We check your website and send you the results.