Jitsi instead of Zoom & Co – online meetings free of charge and GDPR compliant!
Online meetings are used more and more, especially in the Corona crisis. Most programs, however, inadvertently forward a lot of user data to the respective operator of the online meeting room. Most users are not aware of this fact or are simply ignored due to a lack of alternatives. Providers like Zoom & Co. collect a huge amount of data and are not GDPR-compliant.
Zoom & Co. are not GDPR compliant – user data is secretly passed on to Facebook!
This also results from Zoom's data protection regulations (as of April 2020). The company is therefore not complying with the laws applicable in the EU. American companies only have to comply with US laws. However, these requirements will not allow for data protection in the EU. Incidentally, this applies not only to the provider of Zoom but also to Microsoft / Skype or Google Meet and so on. All these providers of online meetings and online video conferences do not comply with EU data protection regulations and are very problematic from the perspective of the GDPR.
ZOOM meeting with additional security concerns
Even large US companies like NASA have banned Zoom from being used for their own employees because of security concerns. Zoom has been the victim of various hacking attacks in recent months. These were able to inject malware into the users' computers via security holes in the application.
Online conference providers that users and companies should not use.
– Zoom
– UberConference
– cisco Webex
– Google Meet
– Skype Business
– Whatsapp, Facebook & Co
Jitsi – the solution for online meetings – open source and free.
We present a technically mature and easy-to-use alternative for video conferences. It is completely free and does not collect user data. It is the Jitsi online project.
As a data protection-compliant replacement for Zoom and Co., you are in good hands with Jitsi. By the way, Jitsi Meet offers the same functions as Zoom and Co.
Here is the download: https://jitsi.org/jitsi-meet/
Jitsi Meet – Video explaining how to use it.
Jitsi Meet is a free online video conferencing tool. This video tutorial on YouTube explains the most important features of the application for online meetings.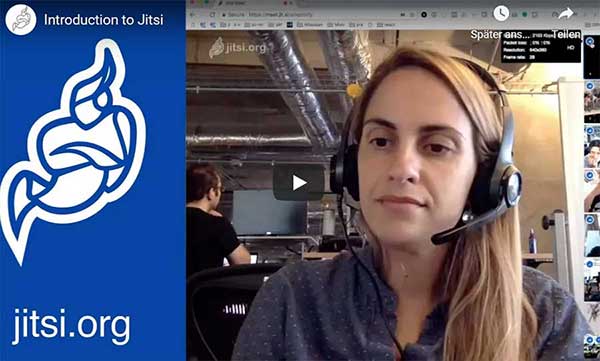 Jitsi Meet – Explanation for setting up a video conference.
Setting up a new video conference is very easy. It is sufficient if you choose a suitable name, which then serves as the basis for the invitation link. You can also share it with other participants in the video conference. For security reasons, the name should be chosen creatively. To increase security, you can assign an additional password for the login.
Jitsi Meet – Try it out immediately without registering
You can try Jitsi Meets immediately without further registration using the button below. All you need for the meeting room is a Google Chrome or Firefox browser.
Jitsi Meets – Instructions
So that you can use Jitsi, various free hosts (so-called instances) are available within Germany. You do NOT need to install anything and do NOT create an account. No data will be requested from you or disclosed! Only the Google Chrome browser or the Firefox browser is required. You can also download corresponding apps for Android and Apple iOS from the app stores free of charge.
Create a meeting room
Create a meeting room on the following website: https://meet.jit.si/
On the Jitsi website you enter your own name for the meeting room and enter this room by clicking on the "Go" button. For you and for other participants, consent is required that this application allow access to your local camera and microphone in the browser. For you and for other participants, consent is required that this application allow access to your local camera and microphone in the browser.
Change your basic settings
In the upper right area of the screen, clicking on the gear icon opens further options with a popup on the basic settings.
Here you can adjust the following:
1. "Devices" tab:
You can control or set access to the micro and camera. You can check your settings using the "Play test tone" button.
2. "Profile" tab:
Here you can assign your name. This should definitely be entered. It makes communication easier for all participants. You can also enter an e-mail address of yourself in the additional field on the right.
3. "Calendar" tab:
Here you can determine whether you want to use a calendar integration.
4. "More" tab:
You can change the language of the Jitsi interface. There you will find other settings that are interesting for you as a moderator. All participants can e.g. first mute (without micro-transmission) or enter the conference room without video transmission.
After making changes, don't forget to confirm everything with "Ok".
On the lower right side there is a white symbol with an "i". By clicking on the symbol you can copy the address of your meeting room. You can then share the address with others and send it by email. At this point you can also assign a password for the meeting room. This means that only a limited group of participants can access it.
More settings
You can make further settings (language, recordings, quality etc.) at the bottom right.
– Change video quality
– Include / start live stream
– Start recording the meeting
– Stream directly to YouTube
– Blur the background of your video image
– Change settings like "language, camera used etc."
– Mute all participants
You can easily talk to your invited participants via the meeting room link without any time limit.
Meeting options
Possible actions during the meeting:
1. You can: share your screen or browser tabs or applications with others.
You can show a presentation or a document. Click on "Share your screen" at the bottom left. Then a menu appears in which you can choose whether your entire screen, only one window is shared by a program (e.g. PowerPoint or Word) or just a tab from the Chrome browser. Damit es funktioniert, muss Chrome die Berechtigung haben, deinen Bildschirminhalt aufzuzeichnen. On a Mac, you give your consent under Settings> Security> Privacy.
2. You can: signal approval or give hand signals.
3. You can: Use text messaging and chat functions.
You simply set it up using the functions at the bottom left of the screen.
Operation in the browser and mobile devices
The Jitsi user interface is easy to use and self-explanatory. The microphone and camera can be switched on and off at will. The person currently speaking is displayed in the main window. The own portrait is shown in a small section.
Jitsi clients are available for:
– Google Chrome Browser
– Firefox Browser
– Windows Client
– macOS Client
– Linux Clients
– Android
– Apple iOS
– NEW: App also available for F-Droid!
Multi Language Support is supported in Jitsi and is already translated into more than 20 languages and can therefore be used perfectly internationally.
Jitsi functional scope: video – audio – chat
In addition to the pure video conference, Jitsi offers numerous additional functions such as:
– Users can share their desktop with others or make presentations.
– For public lectures, the video conference can even be streamed towards YouTube.
– In the other direction, Youtube videos can be viewed together in a Jitsi chat.
– Documents can be edited via an Etherpad.
– Connections via telephone dial-in are available.
– With your own button you can virtually raise your hand as a signal to get the word.
– There is an integrated chat for exchanging text messages.
– Ongoing discussions can be recorded.
– The background can be made unrecognizable with a soft focus.
– Integration into existing calendars and collaborations is very easy. This means that a meeting can be called up directly in your own calendar and thus invited.
Free Jitsi instances for free use
– Official Jitsi for private users: https://meet.jit.si/
– Fairmeeting: GDPR compliant from Austria: https://fairmeeting.net/
Some JITSI Hosters – WITHOUT a Google STUN server:
– https://meet.adminforge.de – (https://meet2.adminforge.de Optional)
– https://meet.teamcloud.work
– https://meet.piraten-witten.de
– https://jitsi.rocks
– https://jitsi.fem.tu-ilmenau.de
Other public Jitsi projects (overview): https://github.com/jitsi/jitsi-meet/wiki/Jitsi-Meet-Instances
Jitsi Meet as a free corporate solution
Jitsi Meet is a video conference application that can be used by anyone. But there is also another solution for companies that want to run the application on their own server, for example to increase security and data protection by one level. Each company could operate its own Jitsi server with relatively little financial effort and thus hold internal meetings. The costs for this are very low. V-servers can be rented for a small monthly fee. This is perfect for hundreds of simultaneous meetings.
For companies – your own server = 100% secure
Because "Jitsi Meet" is open source, you are not dependent on a single provider. There is a list of publicly accessible Jitsi instances on the project page and we have already mentioned a few here. If the security requirements are increased, the software can be set up on its own server. Sufficient basic technical knowledge is a prerequisite for this.
The effort is worthwhile, however, because in this case the entire infrastructure and thus all data remain under your own control. The prerequisite is that both the computing power of the system used and the Internet connection have the appropriate capacities.
Jitsi uses the open WebRTC standard as a basis. The audio codec Opus, optimized for speech, ensures audio quality. On the desktop, Jitsi Meet can easily be used via the browser. Apps for Android and iOS are available for smartphones.
Our tips for online meetings
The Firefox browser works well for most online meetings, but with Google Chrome / Chromium the server load is lower because it supports WebRTC multiplex. Wir empfehlen deshalb, den Chrome Browser zu verwenden, weil er eine bessere Bildqualität aufweist.
Ideally, a headset should be used for the video conference, if possible also connect a LAN cable.
Watch Jitsi at JoeWP Meet
You can view and test all functions of Jitsi live and free of charge on our newly created instance (V-Server).
Here is the link to your free video conference:
Jitsi Meet article series
This article is part of the article series "Jitsi Meet Videoconferencing". You can find more interesting articles about the open source system Jitsi for video, chat and telephone conferences here. The article series covers the following topics:
https://joewp.com/jitsi-videokonferenzen-und-online-meetings/
https://joewp.com/jitsi-meet-datenschutz/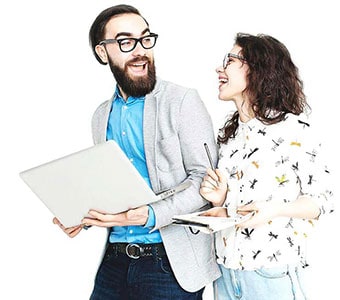 Do you want us to set up Jitsi on your own server?
Do you want to start right now? Discuss your project with us!