User experience design is an essential aspect of digital products, be it a website or an app. Why and for what is UX design so important?
You can find out here!
You can find out what you mean by this term by reading on:
User-Experience-Design
User experience design (or UX design for short) deals with the analysis, creation and optimization of the user experience. User experience is a very complex topic. It encompasses the entire experience of thoughts, emotions and needs of a user when interacting with a digital product. UX designers improve the user's experience through certain optimizations. The aim is to present complex systems in a simpler way and to get the user to the goal of his wishes as quickly and efficiently as possible.
Which products need good UX design?
Every successful product and website needs it. Inefficient and confusing websites are annoying for every visitor. Have you ever been annoyed when you were looking for a product or information on a website and had to click through loads of links and after endless searches left the website frustrated and unsuccessful? The result: the company loses another potential customer.
It doesn't have to be!
The economic success of a digital product depends on a clean UX strategy.
What is the difference between UI design and UX design?
User interface design (short: UI design) and user experience design (short: UX design) are fundamentally different. A UI designer makes sure that a digital product looks good. A UX designer makes sure that a product can be used well. UI designers deal creatively and artistically with a problem. UX designers focus on analytical methods. The focus is on user psychology.
Is user experience a decisive success factor?
"User Experience", short: UX, is an integral part of the corporate strategy of successful companies. UX describes all aspects of a user's experience when interacting with a product, service, environment or facility. (UX = user experience). If a user has a positive experience interacting with a website or an online shop, they'll be happy to come back.
Because:
In order to be able to design an optimal user experience, fundamental knowledge of the needs and behavioral patterns of the end users is necessary. Measures for optimal usability are derived from this.
What is usability?
It is a mix of optimal use, perfect efficiency and pleasant operation of a website or an online shop. Possible errors in usability when developing websites and web shops should be avoided. All of these aspects lead to a good usability.
Happy end users?
86% of all visitors do not return to the website if the UX is poor.
96% of visitors form their first impression of a website based on the design.
53% of mobile device users leave a website if it loads for more than 3 seconds.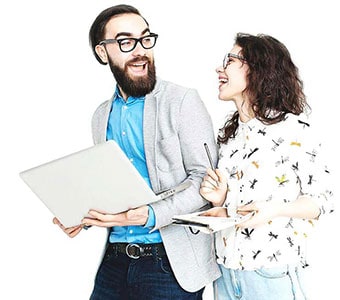 You want to have your website checked for functionality?
We check your website and send you the results.