WHY WORDPRESS?
---
The question "Why WordPress?" Is easy to answer. The CMS from WordPress is an open-source software and therefore basically free of charge. There are also other good content management systems like Joomla, Typo3 and Drupal, which are free. For most users it is important that the training and handling of WordPress is simple. With Drupal, Joomla or TYPO3 the training and the operation is considerably more complicated than with WordPress. Once WordPress has been professionally installed in its basic configuration in terms of functionality and appearance, it is comparable to a normal word processing program for the user. You can then manage the website yourself without any previous knowledge.
DEVELOPMENT
---
The large developer community of WordPress pays attention to a clean and lean code, according to the motto: "Code is poetry". Search engines such as Google & Co. also appreciate this. Often it can be observed that a change from other CMS systems or from static pages to WordPress results in a better ranking on Google.
FUTURE-PROOF
---
WordPress is the most widely used CMS for content management systems with a market share of about 70 % worldwide. The community and the developers are highly professional. WordPress is thus constantly kept up to date with the latest Internet technology. Upgrades can either be performed manually by the user or updated fully automatically. All upgrades of the WordPress core are free. WordPress is very popular and has a huge community. Therefore, it can be assumed that the Content Management System is very future-proof.
WordPress for everyone?
flexibility
The WordPress content management system is extremely flexible. There are many possibilities of design through professional design to adapt the website to the CI of the company. The right look and the right functions are really available for every industry.
WP easy to use?
Easy to use
Maintaining the WordPress website and editing its contents is easy and unproblematic for every user. Even beginners can administrate the CMS in the most important functions after a short introduction. You no longer have to call in a programmer for every small change of texts or images.
Diverse and customizable?
WordPress plugins
There are a variety of AddOns and PlugIns for WordPress. Thus the most different designs and functions can be realized on the website. Most of them are free of charge or are made available for a small fee. Basically you should use the plugins rather sparingly, because they also overload the websites. We recommend and help with the sensible selection.
Does Google love WordPress?
Google's friend
WordPress has integrated search engine optimization. Therefore, users can focus on managing and updating their website. Google has been proven to like CMS WordPress because of its native-to-native and source-code optimizations for the search engine.
Do WordPress sites look good?
Professional designs
When creating websites, we use professional designs that are individually adapted to the company. This ensures optimal corporate identity. The designs are responsive and are displayed perfectly on all devices. We have a large selection of different templates and designs. Ready-made branch solutions can be taken over directly.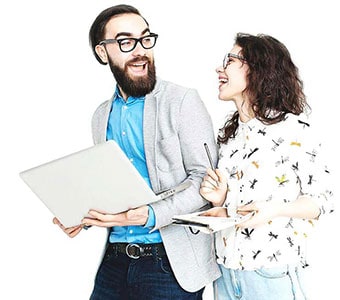 Successful websites are our passion!
You want to start right now? Tell us about your project!
Would you like to have a look at our packages with fixed prices?