WordPress SEO
search engine optimization
The general ranking factors from earlier times are almost non-existent. Recently, individual ranking factors have been generated for each industry and for each search query, which are subject to constant changes. This is the result of the development of self-learning machine algorithms. The search engine Google has become intelligent. The worldwide content on the websites is growing daily. In order to appear at the top of Google's search results, the contribution of 300 words to one keyword is hardly sufficient anymore.
In order to rank for different search terms, a holistic approach becomes necessary. It is not a good idea to do without SEO, because your website is being pushed further and further out of the search results. The company ultimately does not do business over the Internet anymore. More and more other factors play an important role. The page load time or mobile friendliness is a basic requirement for good ranking in the search engines. The search engine experts from the WordPress SEO agency optimize your website for a good ranking.
Avoid barriers
What search engines like Google & Co. do not like: Flash, frames, IFrames, large image files, long load times, slow web servers, long parameter chains.
Internal linking
Optimize the link structure for the search engines: navigation with text instead of graphic navigation points. Use your own Sitemap (no "Google Sitemap").
Content, Content !
What search engines like: Creating good content, but how? Through a special workflow, with which articles are published. Pay attention to organic growth.
Links
Off-Page Optimization: The number and quality of links pointing to your page are the most important parameters for Search PageRank.
Google Sitemap
Google Sitemap accelerates indexing. It can be specified how often a file changes, how current it is and how important it is.
Mobile friendly
Mobile friendliness has been of great importance at Google since 2020. If the website is not optimized for mobile devices, it will be punished.
Mobile SEO
Due to the strong increase in the use of mobile devices in recent years, the relevance of a mobile optimized Internet presence for companies is extremely important. Search engines are increasingly frequented by mobile users. That is why mobile SEO is very important for the presence of your own website. We will adapt your website to these requirements.
Image optimization
Videos and pictures are increasingly perceived in the search results and more often clicked by the searchers in the search engines. A high proportion of all Google search results come with Universal Search integrations. That's why a Youtube SEO and SEO pictures should be done. That brings more visitors to your website.
Phases of website optimization
COMMUNICATION
We will discuss with you in advance your requirements for the SEO search engine optimization of your website.
REALIZATION
We implement the optimization work from the analysis in your web project.
TESTING
In a detailed test all SEO optimizations are thoroughly checked.
DELIVERY
We deliver the results of the optimization based on the test results.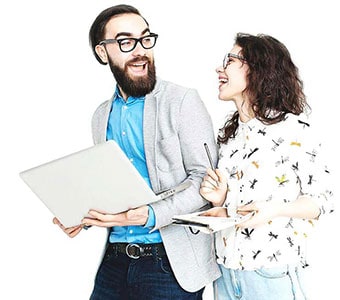 Successful websites are our passion!
You want to start right now? Tell us about your project!
Would you like to have a look at our packages with fixed prices?