Liste der 17 häufigsten Suchmaschinenoptimierung-Fehler und wie man sie vermeidet
Search Engine Optimization Error: Your Website Is Not Found On Google? You have no idea why that is?
I tell you!
You're bound to make one or more of the 17 SEO mistakes below.
You can find out how to avoid these mistakes by reading on:
SEO Mistake # 1: Ignoring Search Engine Optimization
Are you ignoring the influence of SEO for a variety of reasons? That is an eminent mistake. Are you ranking poorly or far behind in search engines? In this way you are giving away important advantages over your competition. This also has a direct impact on your own business.
SEO Mistake # 2: Your Website Is Not Mobile Friendly
Actually, it should be the standard for every website today that it is optimized for all common sizes of mobile devices (responsive design). Is your website not or badly optimized for smartphones? Is your website not or badly optimized for smartphones? Then you have a big problem.
You forgive a very large customer potential. The majority of users are on the move with mobile devices.
Since March 2018, the Google index has only been searched for websites that are optimized for mobile devices.
If your website is not optimized, you will no longer be ranked at the top of the search engine. On the contrary: you will definitely be deleted from the index in the long run.
SEO Mistake # 3: The page speed of your website is not fast enough
Most recently, Google updated its algorithm in July 2018 and made PageSpeed a very important ranking factor.
That is just a logical conclusion. What is important for users on the Internet is also important for Google. There's nothing more important than a website that loads quickly. Who likes to wait several seconds for the website to build and become visible?
If your website loads slowly, the user will leave your page and look around the competitor's website.
Google registers high bounce rates and significantly downgrades such websites in the ranking.
What can you do?
Check whether the loading speed of your website is within limits and not too slow.
Use the following tools to do this:
-> Pagespeed Insights from Google
-> Pingdom (for Europe stop testing Stockholm)
You can find detailed information on this topic on our website: PageSpeed Optimierung
and the matching mistake no.4:
SEO Mistake # 4: Uploading Images Not Optimized
This mistake is made by many inexperienced website owners. It is also very underestimated in its impact on a good ranking. In addition to the normal search, Google has also been offering image search for a long time.
Because:
The loading time of the website increases massively if the image files are too heavy. This has a very negative effect on the rating on Google. As described in the previous error, Google likes fast and PageSpeed optimized websites. The visitors to your website also appreciate a fast page load.
If you don't optimize your images, you are wasting important potential for your ranking.
SEO Mistake # 5: Missing or Inappropriate Keywords
A fundamental element of search engine optimization is the keyword. By optimizing the search terms, the basis for a TOP ranking in the search engines is laid.
The basic requirement is extensive keyword research.
Are there any unsuitable keywords?
But of course: always when there are too few search queries, but also when the competition is too dominant for such keywords (e.g. Wikipedia, ebay, market leader in the different areas, etc.). You then have no chance of displacing them from the top positions in the search results.
SEO Mistake # 6: Duplicate Content on the Website
Duplicate content is mercilessly punished by Google. Content that is of poor quality should also be avoided. Duplicate content is, for example, copied content from external websites, but also constant texts on your own sub-pages (near-duplicate content).
SEO Mistake # 7: Neglecting the Title Tag
Title tags are an important part of Google search. The title tag is the heading of the SERP snippet. You can also think of it as a headline on the website. Google assigns this information thematically in the search results. If the title tag is not well chosen or if it is not set at all, important potential is assigned here in order to be ranked well. Use well-optimized title tags. Your work will pay off.
SEO mistake # 8: No meta description or not optimized
The meta description gives the user important advance information about the content on the respective website. Google does not confirm the meta description as a ranking factor, but it does have a major influence on the positioning in the search results.
How come?
If the meta description is meaningful and optimized, the click rate is automatically increased. This shows Google that the page is important and Google will rank the page better.
SEO Mistake # 9: Missing or Poor Image Attributes
Products and content on the website are supplemented and enhanced by images. They also increase user awareness.
However, the Google Robot cannot read or assign images. This is why it is so very important to optimize all the images on the website by entering the alt attributes, filenames, image titles and descriptions.
SEO Mistake # 10: Too Little or Bad Content
Content is King! High quality content is valued by users and is a decisive ranking factor with search engines. In addition, meaningful and valuable content and texts bind the user to the website. The user reads longer, stays longer and thus lowers the bounce rate. That, in turn, likes Google and rewards it with good placement in the search results.
So go ahead and write good texts on the website!
You should always pay attention to well-structured texts. Avoid missing or meaningless headings.
Just as important: do not define texts with headings graphically but with h-tags.
SEO Mistake # 11: Missing Sitemap.xml
An XML sitemap helps Google to interpret the website and index it correctly. This can also be easily integrated via the webmaster tools. In WordPress you can view the sitemap e.g. B. with the plugin Yoast SEO automatically generated by default and continuously updated.
SEO mistake # 12: Missing robots txt
With the robots.txt you have an important tool at hand to control the indexing of the search engines. This allows you to specify which pages, for example, should not be recorded. You can not only exclude entire pages from crawling, but also certain image formats.
SEO Mistake # 13: Using a Content Management System (CMS) that doesn't include SEO
There are still old management systems in use that do not edit SEO-relevant content.
Are you also using a CMS system without an SEO plugin?
Our recommendation is: switch quickly to the CMS WordPress with the right integration and configuration of a good SEO plugin.
SEO mistake # 14: No clear internal link structure
Probably the most common SEO mistake is caused by missing links to topic-related content. Missing or insufficient internal links have a negative effect on the ranking on Google. That is why it is important to sufficiently link your own internal pages. Internal reference pages should be linked as speaking links with a short description. Also avoid links like "click here" as they are not meaningful.
By missing internal links, you are forgetting valuable SEO potential.
Meaningful internal linking will help your readers find more useful content on your website.
This also increases the length of time you spend on your website and thus has a positive effect on Google.
Also take a look at the information on our following page:OnPage Optimierung
SEO Mistake # 15: Bad URL Structures
Readable URLs: are not only important for Google. Users on the web also appreciate them. Bad URL structures are a common SEO mistake here. Most web servers such as Apache HTTP Server or nginx can implement "clean" URLs with the help of .htaccess or with rewrite engines.
The keyword should be as close to the front as possible.
The keyword should be as close to the front as possible.
SEO Mistake # 16: See SEO as a One-Time Action
SEO is by no means a one-off measure. Websites are always more or less supplemented or changed with new texts, images, etc. However, this also means that the necessary SEO measures must be adjusted in order to maintain the good positions in the search results on Google.
You can also watch your competitors or competitors on the Internet and, if necessary, keep optimizing your own website.
This is an ongoing process that ultimately leads to more customer potential.
SEO Mistake # 17: Your website doesn't have an SSL certificate
Visitors to your website attach great importance to data security.
Google too, by the way!
This is guaranteed by an SSL certificate.
As soon as you collect data on your website (contact form, comment function, registration form for newsletter, shop system with payment function, etc.), you should switch your website from HTTP to HTTPS.
Recently, all known browsers such as Google Chrome, Firefox, Microsoft Edge are marking your site as unsafe if the SSL certification is missing.
If the SSL certificate is missing, the traffic and ranking of your website will decrease significantly in the long run.
HTTPS has been a ranking factor at Google since August 2014.
Do you want more detailed information about SSL certificates? Then you should read the following article: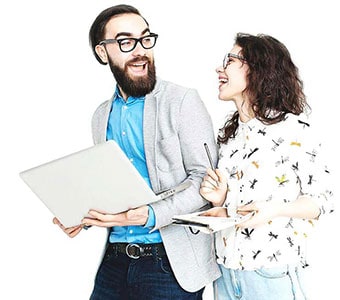 You want to have your website checked for functionality?
We check your website and send you the results.