Google Universal Analytics only available until July 2023
Change to Google Analytics 4: on July 1, 2023, Google will say goodbye to "Universal Analytics". This forces users to switch to the new "Google Analytics 4" version. We will show you the reasons why you should switch as soon as possible and what you need to look out for when switching.
The version of the Google analysis tool Universal Analytics has so far continued to be offered in parallel with the new version Analytics 4, but it will only run until July 1, 2023. After that it will no longer be available as Google will permanently discontinue this version. After that it will no longer be available as Google will permanently discontinue this version. This forces users to switch to GA4 or to do without the analysis tool altogether.
Google Analytics 4 & Privacy
Probably the most serious reason for the forced switch to Google Analytics 4 is that the analysis tool has come under the spotlight of European data protection authorities. In Austria, the use of Universal Analytics has even been classified as a violation of the GDPR.
With the old GA (Universal Analytics), IP addresses may be collected with which personal data is forwarded to the USA. However, according to the GDPR, this is not permitted without the specific consent of the user. Google Analytics 4, on the other hand, does not collect any IP addresses, which means that this problem is completely eliminated.
What is the new Google Analytics 4 (GA4) property?
The new Google Analytics 4 (GA4) was launched in October 2020 and has been continuously further developed in the meantime. It will replace the current version of Universal Analytics. GA4 relies on tracking without cookies to better address GDPR issues and offers many advanced features such as integration with BigQuery and advanced reporting (previously only available to Google Analytics 360 users). Google Analytics cross-device tracking and attribution has also been strengthened in GA4.
What's new in Google Analytics 4
Data tracking / data tracking
GA4 is fundamentally different from Universal Analytics. Instead of relying solely on cookies, an event-based measurement technique is used that is used across platforms. This maps the data of the entire customer journey across different devices and apps.
Data model based on events
The first differentiator of GA4 lies in its data model, which is entirely event-based, as opposed to session-aggregated page views of its Universal Analytics (UA) predecessor. GA4's event-driven data model offers more flexibility compared to the previous Google Analytics, as it enables a unified tracking system for web and applications without being completely tied to URLs.
With this data, better decisions can be made for your own online strategy. Campaigns in other Google products such as Google Ads can therefore be used in a more targeted manner.
Data Acquisition / Sampling
Another key difference is the thresholds for data collection and sampling. Universal Analytics had certain limitations on the amount of data that could be collected with the free version (10 million hits per property per month). That's not a lot for high-traffic sites. GA4 removes this limitation, allowing for free, unlimited data collection.
BigQuery integration
An additional feature related to data collection that comes in handy when dealing with large datasets is BigQuery integration. Previously, this was only available in the paid version of Google Analytics (GA360). The underlying functionality grants access to the complete data with full ownership. This means you can merge it with any source (such as your CRM platform that contains customer emails) to get a more holistic view of the customer journey as it serves as a separate data warehouse.
Consequently, you can split it up however you want (regressions, predictive analytics, etc.). It should be noted, however, that the data cannot be recorded retrospectively (e.g. by migrating from UA). Therefore, the conversion to GA4 should take place as soon as possible.
user identification
The last feature worth mentioning in this section is identity reporting, which takes user identification to an even higher level. This stitches together user behavior across platforms and devices. This approach results in a coherent user journey that can be built using methods: the user ID, Google signals, and various device IDs.
Conclusion
The data of the old property (history) cannot be migrated to GA4 later. So ensuring that dual tracking is about to start now should be harnessing the full power of the GA4's advanced features right away.
You can't avoid switching to Google Analytics 4. We therefore recommend that you do this as soon as possible, because this means that the historical data from the old Google Analytics can also be collected with the new tool. This will give you the opportunity to access comparison periods in the next year 2023.
The data collected by GA4 cannot be compared with that of Universal Analytics due to the different measurement technology. One proposed solution is to set up a parallel system.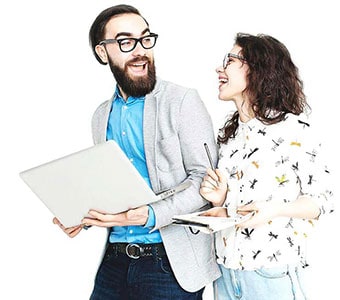 Do you want us to switch to Google Analytics 4?